Welcome to the
Wildwood Himitage &
Tantrum Yoga® Center
Direct short-cut to this page: http://bit.ly/Jb5Svm


Nowhere to go? Take your time getting there.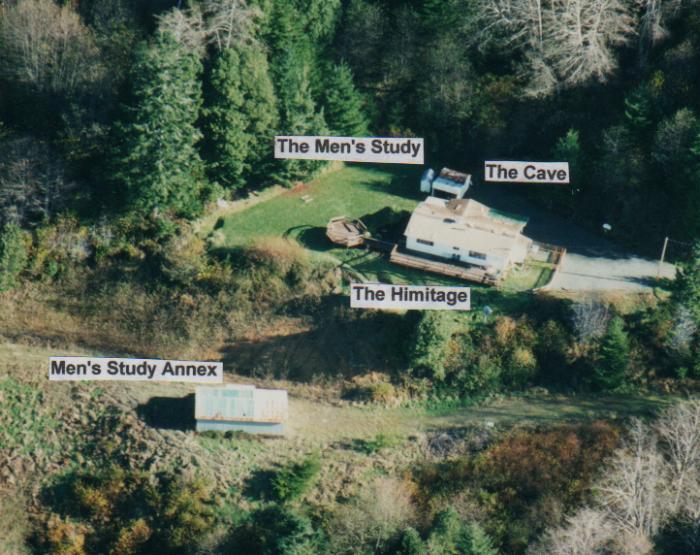 Circa 2004: Click on image to enlarge.



Circa 2018: An expanded ariel view. 0:47


Gordon'sGulch - 11/20/12 Slide



Click on to book through Airbnb

Take a Walk Through the Wildwood Himitage (vs. Hermitage)
Sunsets & the Horizon
Learn its History
Watch us Grow and Change
Browsers' Bookmobile
The Men's Study
The Candy Shack
The Hokey Pokey Clinic
Creating a Butterfly Garden
How Close are You? A Map Closest Airport
Our Weather
Our Resident Himit (vs. Hermit)
The Dragonfly
Take a Private Advance at the Himitage - A Digital Detox
The Famous Ostrich Package
Attractions - North Bound 101 to Brookings, OR
Attractions - South Bound 101 to Brookings, OR
Area Attractions
Restaurants
Fishing & Hunting Info, Hiking Trails
Miscellaneous Services, Parks & Recreation
Clothing Optional in Oregon
Resources, Books, Other Retreats
Weather, Sneaker Waves
Today's Weather plus 10 Day Forecast
Local Calendar of Events
Contact Us

The WIld Rivers Coast and the Banana Belt
The Wild RIvers Coast is a 100 miles sandy beach and ruged coast line where the sea lions come to sun themselves. All of which is hemmed in forests of massive sequoias and old growth redwoods that are watered with creeks and rivers that empty out into the Pacific. And it is this that makes this a paradise for anyone trekking into the untouched wild of either sea or wood.
Home to the Jedediah Smith,Redwood Forest, the most northern grove on redwoods onthe Pacific Coast, the gorgeous landscape supports some of the finest outdoor activities in the country, from some of the country's best bird watching, as well as more rugged outdoor adventures among the ancient redwoods like whitewater rafting, kayaking, hiking, camping and fishing. You can pitch your own tent, or rent a rustic fishing cabin to be ready to slap the water with a line at first light. Beyond the forest, there is a different kind of adventure that beckons – available through jet boat tours, deep sea fishing charters and whale watching.
Even those of us who are seeking out the majesty of nature appreciate a little something in town. There is a local population with a lively scene that boasts art galleries, antique shops, local craft beer, and more. And of course, all the adventure outfitters that you'd ever need to fully experience all that this beautiful expanse has to offer.
For those who like to retreat to the comfort and quiet of a hot tub and warm bed after a day of outdoor adventure, the Wildwood Himitage is available to enjoy through Airbnb. Located just 12 miles north of the California/Oregon border, midway between San Francisco and Portland, the Wildwood Himitage sits 750' above sea level at the end of a valley in Oregon's Banana Belt. The view of the horizon looks 65 miles out over the Pacific Ocean. Weather is temperate year around and the sounds and sights of nature abound. (Current 10-day weather forecast.)
Take a Walk Through the
Wildwood Himitage

Welcome
When you surround yourself with beauty, it becomes a part of you. That is why the Wildwood Himitage takes time to manage and cultivate our grounds with many delightful spots to rest and reflect. Our pathways bring nature's color, variety and beauty to bear on the desire for an optimum meditative experience.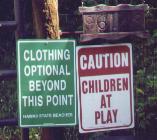 Froggie and the Dragonfly welcome you.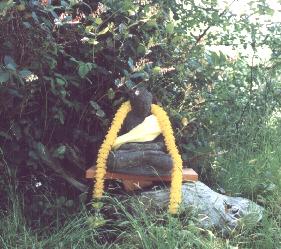 And, the Buddha welcomes you, too!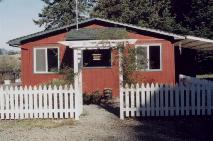 1. Approaching the himitage. 2. Burmese welcoming bell at the arbor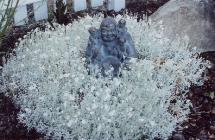 1. The front entrance. 2. Our very own welcoming committee - Shriek and the Gnome. 3. Buddha & babies in the garden. Ever notice how much Buddha and Shriek look alike?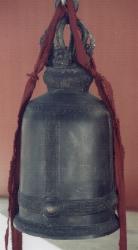 1. Buddha welcome from Bali. 2. The 45 lb. temple bell finally arrives from Thailand. 3. Stone woman from Bali is patiently waiting to offer the land's water to all who pass her way.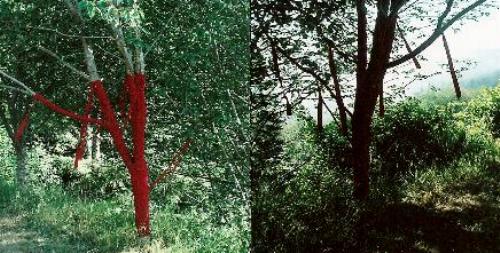 The Warrior Tree welcomes visitors to the parking area.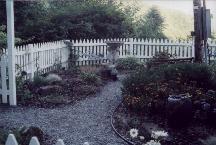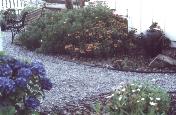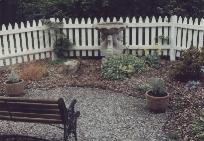 Walk through the meditation garden to the ocean side if you seek a refuge for quiet reflection
and spiritual rejuvenation.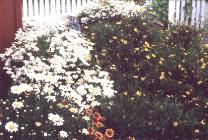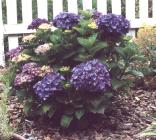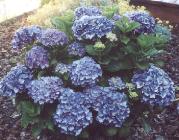 1. Daisys in full bloom. 2. And, the Hydrangeas say "Hi!"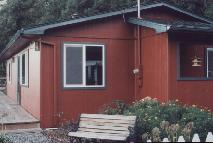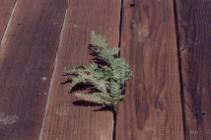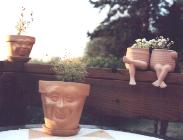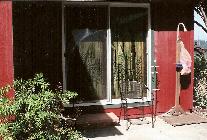 1. Through the meditation garden to the deck facing the Ocean. 2. Ferns everywhere, even through the deck. 3. The "Plant People" or "Potted Men" as some like to call them. 4. The Camper's cold shower outside the Guest Room.
Our bodies are overwhelming composed of water, we all have an ancient affinity to a water environment. The Spa is available for relaxation, for rest, and for renewal. As you can see, our Spa is in a lovely private setting that can help replenish the spirit and mind as well.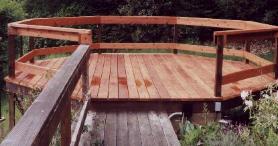 1. Deck - before. 2. Stage two - all new redwood over reinforced pilings.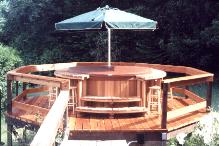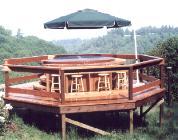 1. Deck with spa surrounded by wind gongs in the keys of A, C, E, and G.
2. Deck with fog over looking the ocean.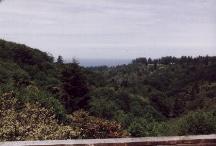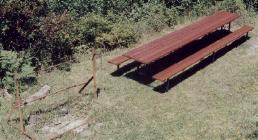 1. Ocean view from deck, hot tub, picnic table, hammock and "Shakin' Shack". 2. Intimate dining for 20.

The Peeing Tree
Byers wrote a story in his column a number of years ago about a Father-Son's First Masculine Ritual called The Peeing Tree. When I was looking for property in 1998/99, I tried to buy 18 acres outside Ansa Borago in Southern California. One of the things I loved about that high-desert land was a huge oak tree. I used that image for many years until late last year when there was a mud slide behind my house that washed out my above-ground, gravity fed water system. While rebuilding the system, I found a statue of a cherib. I hooked up an extra water line directly to that statue and now I have a graphic example of The Peeing Tree on the hill in back of my house. He's constantly at work, watering one of my conifers (until our summer dry season reduces the flow of water.)
Having traveled over 30,000 miles through 26 states over 4 and a half years full-time in an RV converted to hold over
1,000 books on men's issues (see Bookmobile),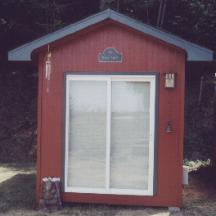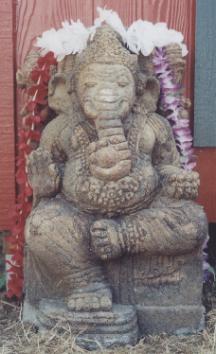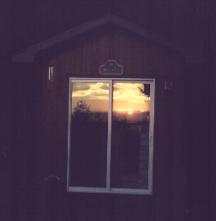 4.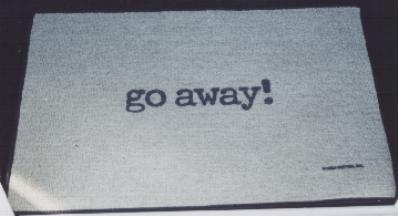 1. Almost 6,000 books, videos and audio tapes once resided in the Men's Study. Following my stroke in 2014, I sent them to the Changing Men's collection at Michigan State University. 2. Ganesha awaits outside to invite seekers to gain knowledge, meditate or just relax inside. 3. 7/30/03 sunset reflected in the front sliding glass door. 4. Entrance mat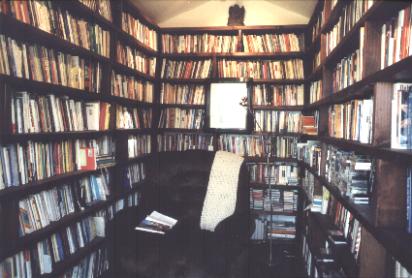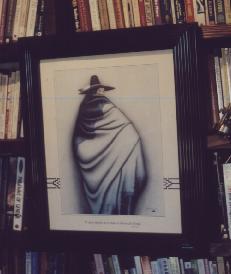 1. A portion of the 6,000 books on 100 different men's issues. 2. "To give dignity to a man is above all things." Indian proverb. Drawing by Robert Redbird
1.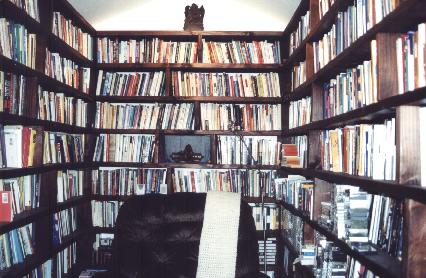 1. A total of 256 linear feet of men's books with

2.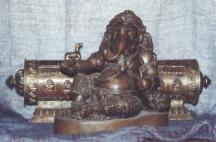 3.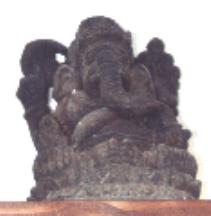 2. Ganesha reclined behind the recliner and 3. Ganesha overseeing everything from the top shelf.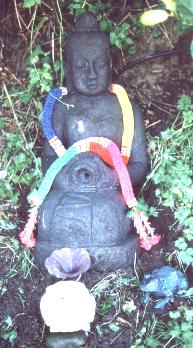 The stone woman from Bali has been placed and is ready to be of service. She offers the land's water to all who pass her way.

The Tall Bush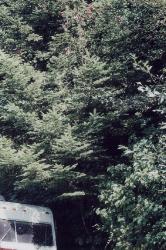 Our "Bush" also has thorns. It's a climbing rose bush in bloom about 50+' up the fur
(an inch down from the top of the photo). Click on photo for close-up. Unfortunately workers took out the vines when they repaired my hill after a mud slide.

1. Early painting of the male Kuan Yin. 2 The male Kuan Yin at the entrace to Gnome's Knoll. 3. Another view. 4. Kuan Yin with a mustache.

5:54
YouTube
Thousand-Hand Female Guan Yin
The following is the reason he is the guiding light for this Himitage. Kuan Yin, one who hears the cries of the world - the living expression of loving compassion; the one who will come to your aid; the one who offers a caring aspect to the otherwise somewhat remote world with its scales of merit and demerit, its hells and rebirths, its retributions and consequences in life and beyond. He will break the cycle of rebirth, of punishment and of retribution. As early as the fifth century, Kuan Yin was always depicted as a man, albeit one very slight and graceful of form and visage. Many of the forms of Kuan Yin were clearly male, though somewhat androgynous. In all the early translations of the Lotus Sutra, Kuan Yin is indisputably male. While it is recognized within the text that he is capable of taking a female form, this is not considered his main form. His is clearly male in the prodigious records of Hsuan Tsand (c 596-664) throughout China and India and in such texts as the Cheng Ming Ching, which dates to the end of the seventh century. He is also clearly male in the Surangama Sutra which was first produced in AD 705 in Chinese. By the mid to late ninth century, Kuan Yin was now usually considered and depicted as female. So, something happened during that time to turn Kuan Yin from a male into a female figure. The female Kuan Yin's roots lie not in the heartlands of historic China but on the northwest frontier, on the Silk Road. This is where numerous cultures met and interacted. The male cult of Kuan Yin had already penetrated as a result of their dissemination of the Lotus Sutra, but the distinctive female forms only began to fan out extensively from the northwest in the ninth to tenth centuries. It may have been an early case of homophobia. MORE

Whaleseye Meditation Seat
1.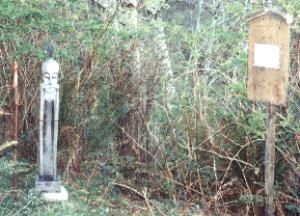 2.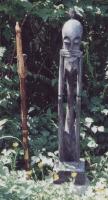 3.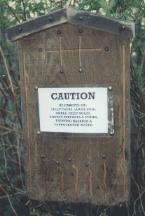 1. Entrance to the Meditation Path down to a year-around stream to Seek Guidance. 2. A close up of an African guardian to remind us to be in silence on our journey down the mountain to the Whaleseye Meditation seat. . On it's right, a Coyote walking staff to help with balance and protection during the assent. 3. The "Caution" on a sign symbolizing Guidance. It reads: " Be careful of steep paths, loose soil, small, deep holes, uneven surfaces and stairs. Tripping hazards & unprotected water." Begin your journey here.

4.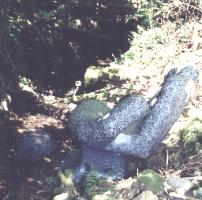 5.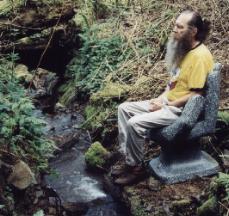 6.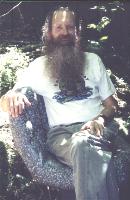 4. Once down the mountain, one will find a seat on a year-around stream. (Sit here.) 5. The Himit meditating at one of his favorite spots at the Wildwood Himitage. 6. Himit relaxing. "Have a nice day." 03/08/03.
7. Looking downstream, two more large fallen redwoods form a bridge. (Click here to see the resident Himit standing beneath one of those redwoods.) 8. Looking upstream, large, fallen redwoods form a waterfall leading down to Whaleseye. (Visit this space with your inner eye.) 9. The Himit , also known as the Goofey Mentor, sitting next to waterfall formed by numerous downed redwoods from the 1950's.(Undate: The rains of 11/20/12 took all of this out as shown in the following video known on YouTube as Gordon'sGulch.)


Gordon'sGulch - 11/20/12

Property Signage

Rusty Lutz, a friend and fellow Master of Ceremonies and Rituals, created the following signage for The Wildwood Himitage. The photos don't do any of them justice. Best viewed in person.

1.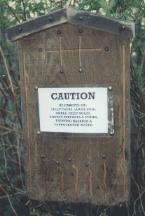 2.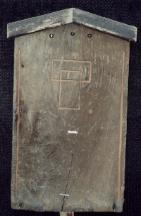 3.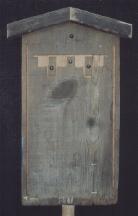 1. Guidance. 2. Gateway. 3. Leading to Happiness
4.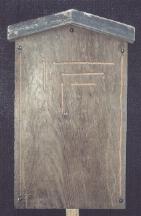 5.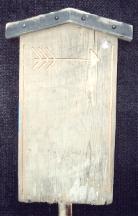 6.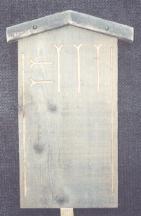 4. Boundary. 5. Protection and 6. Home.

Gnome's Knoll
Near the top of the ridge stands a small forest of tall, white alders and lush five foot tall ferns.
What name speaks to you? Gnomes Knoll? Hobbit's Habitat? A Hobbitate for Humanity? E-Mail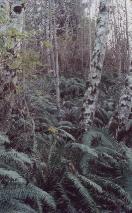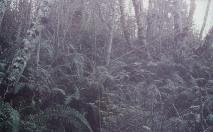 Gnomes Knoll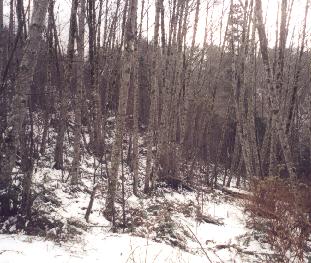 Gnome's Knoll with snow.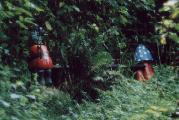 I don't think the gnome knows we're here. He's taking a break from mushroom picking.

Spirit Houses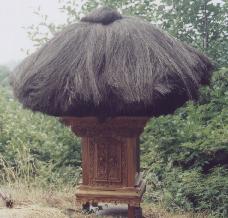 1. This spirit house, with an ocean view, is intended to attract the spirits that might otherwise inhabit the Himitage itself. Guests often leave fruit or rice as a reward if the spirits resist the temptation to molest the human inhabitants of the real house. 2. The larger Spirit House is one used in Balinese temples to house the spirits of the ancestors.

1.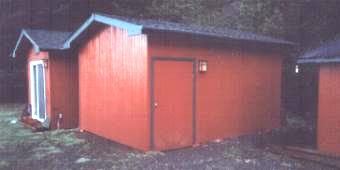 2.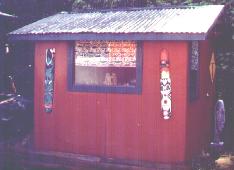 1. Situated next to The Men's Study, the back portion of the 12' x 16' structure is The Cave, a 10' x 12' room with no windows. The interior walls and ceiling of the room are painted black complete with a black carpet. While it also serves as a music studio, it is basically designed for that time when one, especially a man, wants to be in silence and without visual stimulation, much like some of the ancient monks lived every day. It will provide this unique experience for the adventurous. One might consider fasting during this period. (See photos of the construction.) 2. More storage.
The latest addition here at the Wildwood Himitage is the Candy Shack, just down from the hot tub looking out over the valley with a great ocean view. This was the "grand-kids" hang-out as well as a great spot to write. (See photos of the installation and additional Garden Cottages.) In 2012, I turned it into The Hokey Pokey Clinic: A place to turn yourself around, complete with a massage table and accessories.

1.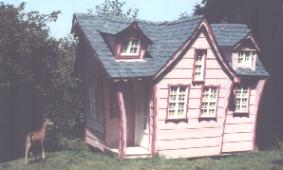 2.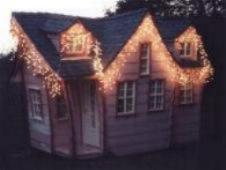 1. See the curious site-seer to the left of The Clinic. A young doe waiting for a walk-in appointment. 2. At dusk.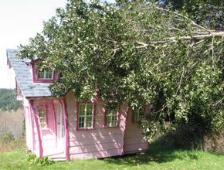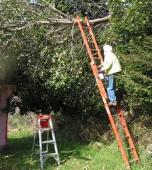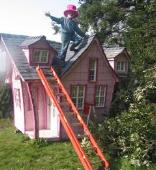 1. And a tree comes tumbling down. 2. A Warrior on a mission. 3. Bill conquers all.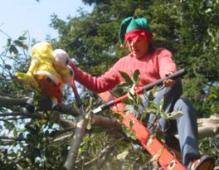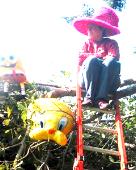 4. & 5. Zoe and friends hanging out in the tree above the clinic.

Other Wildwood Critters
Oh Deer

1. Mom. 2. Her fawn far right by horseshoe pit.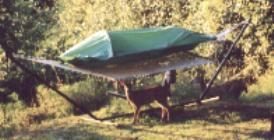 The two enjoying the shade of the hammock.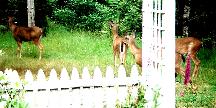 The Bucks Stop Here - 6 of them from three generations.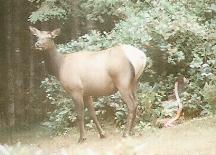 The Grand Poobah Elk stopped by - a first, for me, on this side of the ridge.
.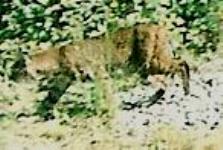 Bob - cat paid a couple of visits. She brought her two cubs on one visit.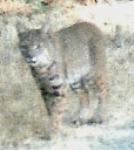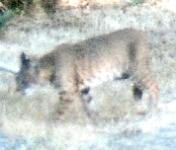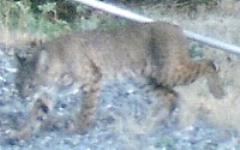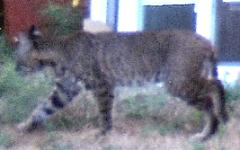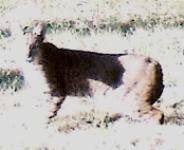 Chipmunks



1. Buddha's right-hand Monk, Chip. 2. Chip, the Chipmunk, not to be out done, gets breakfast on the rocks.

Oh Hail!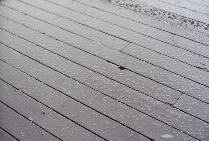 The deck for a moment on 12/1/01.
Our First and Second Snow - 2001/02
No snow (some hail) during the winters of 2002/03, 2003/04, 2004/05, 2005/06, 2006/07 and 2007/08 until early 2008

Stone Fountain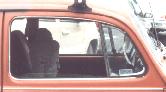 Balinese stone woman sits patiently in car awaiting the trip from San Francisco to her new home in Brookings, OR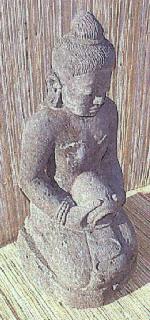 This 38" high stone woman arrived from Bali and is patiently waiting to be placed on the Wildwood Himitage grounds.

Thanks
To Lauren, a special interior designer from Kim3 in San Francisco, shown here with the standing Buddha and Shakti at her left elbow. She located both the Buddha and stone woman fountain (above), among other things, to help bring the energy from the spiritual traditions of Bali to the land of the Wildwood Himitage.

* * *
For every fine, well-adjusted and smoothly functioning American, there are two who never had the chance to discover themselves. It may well be because they have never been alone with themselves. - Marya Mannes

Awards

http://www.wildwoodhimitage.com/feedbackLetterEditor.html
Contact Us

---
Snail Mail: P.O. Box 12, Brookings, OR 97415-0001
www.wildwoodhimitage.com